There is a lot of difference in the tiller market. There are so many to choose from, and they all have their pros and cons. I am here to tell you what's best for your needs! This post will go over three different types of tillers: electric, gas-powered, and manual.
What is The Best Tiller on the Market? Analyzing a number of different tiller models and after hours of research, we have finally found what we believe to be the best tiller.
But first, let's take a look at what a tiller is and why you need one. A tiller is used for breaking up dirt or soil as well as loosening it so that water can penetrate it better which in turn helps plants grow. They come in many different styles from electric tillers to gas-powered ones but all have one thing in common- they work! So without further ado, here are our findings on The Best Tille on the market…
Best Tiller Reviews
Each model has its own strengths and weaknesses, so choose carefully if you're looking to buy one of these tools. You can also check our buying guide for more info on what to look for when shopping around.
Tilling is the process of breaking up chunks of the soil before seeding, planting, or transplanting to give your garden healthy soil. The tiller has two sets of blades that are set at different angles for this task.
There are several options to consider when looking for a tiller. You will need to decide what features you want, what type of tiller is right for you, and your garden size. When considering the options available, look at the depth of tilling (the larger sized tines can till deeper than smaller sized tines), width (the larger the width, the fewer passes needed to till large areas), and types of tines.
| | | | | |
| --- | --- | --- | --- | --- |
| Name | Dimension | Weight | Power Source | Warranty |
| Mantis 7940 4-Cycle Tiller Cultivator | 29.25 x 13.5 x 9.5 inches | 24 Pounds | Gas-powered | 2-year |
| Earthwise TC70016 16″ Corded Electric Tiller | 40 x 40 x 16.2 inches | 35 pounds | Corded Electric | 2-year |
| Sun Joe TJ603E 16″ 13.5 Amp Electric Tiller | 55 x 43 x 43 inches | 27 pounds | Corded Electric | 3 year |
| Craftsman C210 9″ 2-Cycle Gas Tiller | 13.25 x 14.5 x 28.75 inches | 29 pounds | Gas Powered | 2-year |
| Yardmax TY5328 Compact Front Tine Tiller | 29 x 28.3 x 18.1 | 103.6 Pounds | 98cc YARDMAX engine delivers 180 RPM | 2-Year |
| Landworks Mini Tiller Cultivator | 29.5 x 15 x 12 inches | 34.3 pounds | 3Hp 50cc Gas 2 Stroke Single Cylinder OHV Engine | 2-year |
| Mantis 7250-00-03 Electric Tiller | 48 x 17 x 38 inches | 20 pounds | Corded Electric | 2-year |
Mantis 7940 4-Cycle Tiller Cultivator:
This gardening tool operates at 8,000 RPMs on its straight shaft gas engine that starts easily thanks to its recoil start mechanism. It's simple to switch between forward and reverse thanks to its easy gearshift capability. The straight shaft design of this tiller cultivator makes it easy to work in tight areas, while its compact size is convenient for planting. This Mantis tiller cultivator also comes with an anti-vibration system that minimizes wear and tear on your arm joints.
No gasoline or oil! No fumes, no mixing of 2-cycle mix. The Mantis 4-Cycle Tiller Cultivator comes ready to use at the touch of a button. It is small enough to work in tight spaces but powerful enough to turn over tough soil. Everything you need comes in one box, so there are no extra gas or oil cans to buy and store.
Cleanup is easy with the water hose attachment because it has an automatic shutoff switch when not in use. The 7940 starts easily without the choke lever – half pull for air, full pull for fuel injection! This unit can do more than just till up dirt, it breaks up sod too without tearing up your yard grass.
| | |
| --- | --- |
| Pros | Cons |
| Requires no mixing of oil and gas | The 9″ width may require more passes for larger jobs |
| Surprisingly light & easy to maneuver, even in tight spaces | 10″ blade depth may not be deep enough for some tasks |
| Has a solid worm-gear transmission | When reversed, only cultivates the top 2-3″ |
| Handles fold down for storage and transport | It doesn't work well in mountainous terrains like the Rockies and the Appalachian Mountains |
| Fairly quiet motor | The size of the unit itself demands great care when operating/storing/transporting as well |
Earthwise TC70016 16″ Corded Electric Tiller:
The Earthwise TC70016 corded electric tiller is a weed-remover or cultivator, not a replacement for a lawnmower. It's designed to help add nutrients to the soil and mix them in, allowing you to eliminate weeds from your garden.
The Earthwise TC70016 16″ Corded Electric Tiller is an easy-to-use piece of equipment that makes gardening a breeze. The unit comes with three different settings: one for loosening the soil, one for deeper cultivation, and a third set just for mixing fertilizer into the top few inches of soil while adding nutrients.
It starts quickly and easily with just the turn of a key on the ergonomic handle. The tines can be locked into place at 90 degrees for cultivating between plants.
The large wheels make it easy to transport and move, as will the cord lock which helps prevent accidental unplugging. It's designed to be lightweight at just 24 pounds, but tough enough for daily use year after year.
Earthwise TC70016 16″ Corded Electric Tiller Features:
| | |
| --- | --- |
| Pros | Cons |
| No oil, gas, or regular maintenance required | Corded, so must have close proximity to a power source |
| No fumes to breathe while working | 8″ depth may not be deep enough for some tasks |
| Fully adjustable tine placement and width | Doesn't have much front weight, so may need to be pulled rather than pushed |
| Front tine design | No Height Adjustment |
| 6″ flip-down wheel makes it easy to move to your work location | No reverse gear |
Sun Joe TJ603E 16″ 13.5 Amp Electric Tiller:
A Sun Joe TJ603E 16″ 13.5 Amp Electric Tiller is a good tool for gardening where the soil is not too hard or rocky. If you have heavy clay soils, it can also be used but will far outperform any small electric tiller. It does work well on raised beds with loose soil that is free of rocks and debris though which makes it perfect for what I needed around my house. I use this tiller mainly to till up the dirt in my new raised bed vegetable garden every year before planting season since I'm building a new one each year while some older ones are getting started growing vegetables.
For its size, the Sun Joe TJ603E 16″ 13.5 Amp Electric Tiller is very lightweight at only 46 pounds. It is easy to set up out of the box with height adjustment foot pads that are already attached, however, you will have to attach the tines yourself. The tines come in a separate package and are not pre-assembled on the unit itself, unlike larger tillers, so be sure to save them for reassembly after use.
Features:
| | |
| --- | --- |
| Pros | Cons |
| Collapsible handles for easy storage | Lighter weight than the Earthwise, so may not work as deep as it could |
| Maintenance-free – no gas or oil to deal with | Requires proximity to a power source |
| Reasonable power for an electric model | Could be better if it had a metal frame |
| The variable-height rear wheel helps to move it around easily | no automatic shut off either when you release the handles |
Craftsman C210 9″ 2-Cycle Gas Tiller:
This Craftsman C210 9″ Tiller features a 2-cycle gas engine to get you started with your garden. It features 9 inches of deep tilling power that will break up the ground into fine particles for planting or seedbed preparation. A wheel kit can be added to make it easier to transport this product across your yard if needed.
Craftsman C210 9″ Tiller features a 2-cycle gas engine to get you started with your garden. It features 9 inches of deep tilling power that will break up the ground into fine particles for planting or seedbed preparation. A wheel kit can be added to make it easier to transport this product across your yard if needed.
Features:
| | |
| --- | --- |
| Pros | Cons |
| Compact garden tillers can get into hard-to-reach areas | Its shallow tilling depth is only good for basic garden duties |
| Great for lightweight annual garden care | It May be best for people growing in established beds |
| Good power for its size | Gas units are more expensive than electric but offer more power and speed than their electric counterparts. |
| Easy to maintain | Tiller mainly come from its small engine (about 1/3 horsepower) and short handles |
Yardmax TY5328 Compact Front Tine Tiller:
The Yardmax TY5328 is a lightweight but powerful tiller. It has four forward speed settings and can rotate to an impressive 300 degrees.
The tiller comes with safety features including its automatic shutoff system, which stops the machine completely for six seconds if it touches anything during the operation. The safety handles can be adjusted up or down, depending on your height preference. The tines are designed to work well in both loose gravel and hard dirt; you will strafe left or right when working on grassy areas because of the design's rotating function.
This product only weighs 136 pounds, making it easier for most people to handle on their own (if you're looking for something even lighter check out this Troy Bilt Horse Review ). Assembly is easy and instructions are included. You'll want to make sure that you wear shoes and long pants when using the machine, as this product does send small rocks and debris flying out (this can damage your feet and legs).
Features:
| | |
| --- | --- |
| Pros | Cons |
| Excellent digging experience | Maybe more tiller than most really need |
| Gets deeper than most models | Lack of variable speeds makes it always on full-forward rotation |
| Much wider than most models | Requires regular maintenance to keep it functional |
| Can remove outer tines to allow for more maneuverability | The blades are only 2 inches deep |
Landworks Mini Tiller Cultivator:
Compact tillers are so powerful because their design has changed over the years where early models were just smaller counterparts of full-size tractors that lacked much power or versatility. Because they have evolved into distinct units with different technologies, there are now mini tiller cultivators available for virtually every need imaginable. When you're trying to decide which variety will be best for your garden needs, consider the following three types of these machines instead of just looking for the cheapest option.
For navigating even smaller spaces in your garden, consider an electric tiller cultivator that eliminates the need for fumes and gasoline. These models weigh much less than gas-powered ones and provide enough power to cultivate soil easily while also being compact enough to store away in small areas when not in use. You can simply plug them into a standard outlet instead of needing a large gas tank or oil reservoir and messy cords.
Unlike other mini tillers with triangular drums that can push up against obstacles like rocks and roots because they need room to rotate, cylindrical drum mini tillers have drums that are straight all the way around. This style can be used in places where you would otherwise have trouble maneuvering a tiller.
This type of mini tiller contains a series of paddle-shaped blades that are mounted to a central disk or wheel instead of having a cylindrical drum-like other model. The blades are able to till soil evenly while harvesting more organic matter because they move in two different directions at once, rotating both around the axle and up and down simultaneously. The end result is that you can get twice as much done with half as much effort.
Features:
| | |
| --- | --- |
| Pros | Cons |
| Steel construction makes it resilient to damage | Narrow tilling width may require more passes |
| Great for small gardens | Shallow tilling depth, best for cultivation or soil-blending purposes |
| The engine is surprisingly powerful for the size | Cannot find evidence of any sort of warranty at this time |
Mantis 7250-00-03 Electric Tiller:
The Mantis 7250-00-03 is an electric tiller, sometimes referred to as a mini rototiller or power tiller. It was manufactured in the early 1990s by the Mantis Corporation which no longer exists. Apparently, it can be repaired by replacing three of its most common parts, but this repair only runs about $300 not including labor costs. For that price, most people would prefer to buy a new machine.
The Mantis is desirable because it has very low ground pressure, 15 pounds compared to dozens of pounds for gasoline-powered tillers, however, you have to work at least 10 inches deep with the Mantis because anything shallower will result in unsatisfactory results according to some owners' manuals I read online. This is because the blades of a Mantis look more like blenders than spades and they chop down the top layer.
If you used this electric cultivator frequently, it would save you money because you could use your existing garden soil to grow vegetables instead of buying loads of new soil every season. Also, since it is electrically powered it wouldn't pollute as much as gasoline-powered tillers do.
Features:
| | |
| --- | --- |
| Pros | Cons |
| Lightest weight of the tillers we're highlighting | Narrow width may not be optimal for all gardens |
| Handles fold down for storage or transport | Needs access to the power supply as it's electric |
| Make quick work of your digging/cultivating with this machine | Very shallow tine guard may produce some soil kickback |
The Mini Tiller Buying Guide(Things to consider when buying a mini tiller):
Mini Tillers are very versatile tools that can not only help you tend your garden and flower beds, but can also be used as an edger and even as a cultivator for weeding your lawn. The following article will first discuss some basic terms and features relating to these machines before moving on to the three different types of tillers available. If you are already familiar with general tiller information, feel free to skip ahead to the section on your specific type of mini tiller.
Each type of mini tiller comes with a variety of attachments for tasks beyond gardening, making these tools very versatile. We discuss these additional features later in the article under each respective class of machine, but first we want to talk about some basic terms that are used when describing garden tillers in general:
This is how large the diameter is on the actually attached tines themselves. The larger they are, the more you'll be able to turn per pass.
This is the distance in between each tine. If it's closer, then you'll have a more aggressive tiller that can better break up the soil but is harder to use if you're looking to till smaller areas.
The depth gauge typically measures either how deep or shallow your machine will till at one time. It may also be referred to as the digging depth. The larger this number is, typically the deeper your tiller can dig with one pass.
These are simply the diameter of the wheels on the tiller itself, which tell you how large an area it can comfortably work in at once. Even if they are not powered, some mini tillers come standard with wheels that are either larger or smaller than others. We have an entire article dedicated to helping you understand the importance of wheel sizes with tiller machines, so check it out if you're interested!
Finally, some mini tillers may come standard with a weight rating, though this is not something we typically see advertised since most people don't necessarily need to know about it before purchasing their tiller. This is simply the weight capacity of your tiller at maximum working effort, which would be when your tiller runs out of gas or breaks down completely.
Types Of Tillers
Tillers are pieces of equipment designed to turn soil before planting seeds. There are several types of tiller available, each providing a different type of cultivation. Small tillers are used for flower beds, while large tractors are used for soil preparation prior to planting crops on larger pieces of land.
Rear-Tine Tiller:
One common type is the rear tine tiller. Rear tine tillers have blades attached directly to the rear axle which churn up the soil as they move back and forth across it. Tires or wheels keep the machine mobile so that it can be moved easily from place to place.
Rear tine tillers are compact machines that are light enough to be pulled by hand through small areas of land. They are also suitable for working in loose soil where wheeled models might become stuck. Rear tine tillers typically operate at speeds between 1300 RPM and 1800 RPM.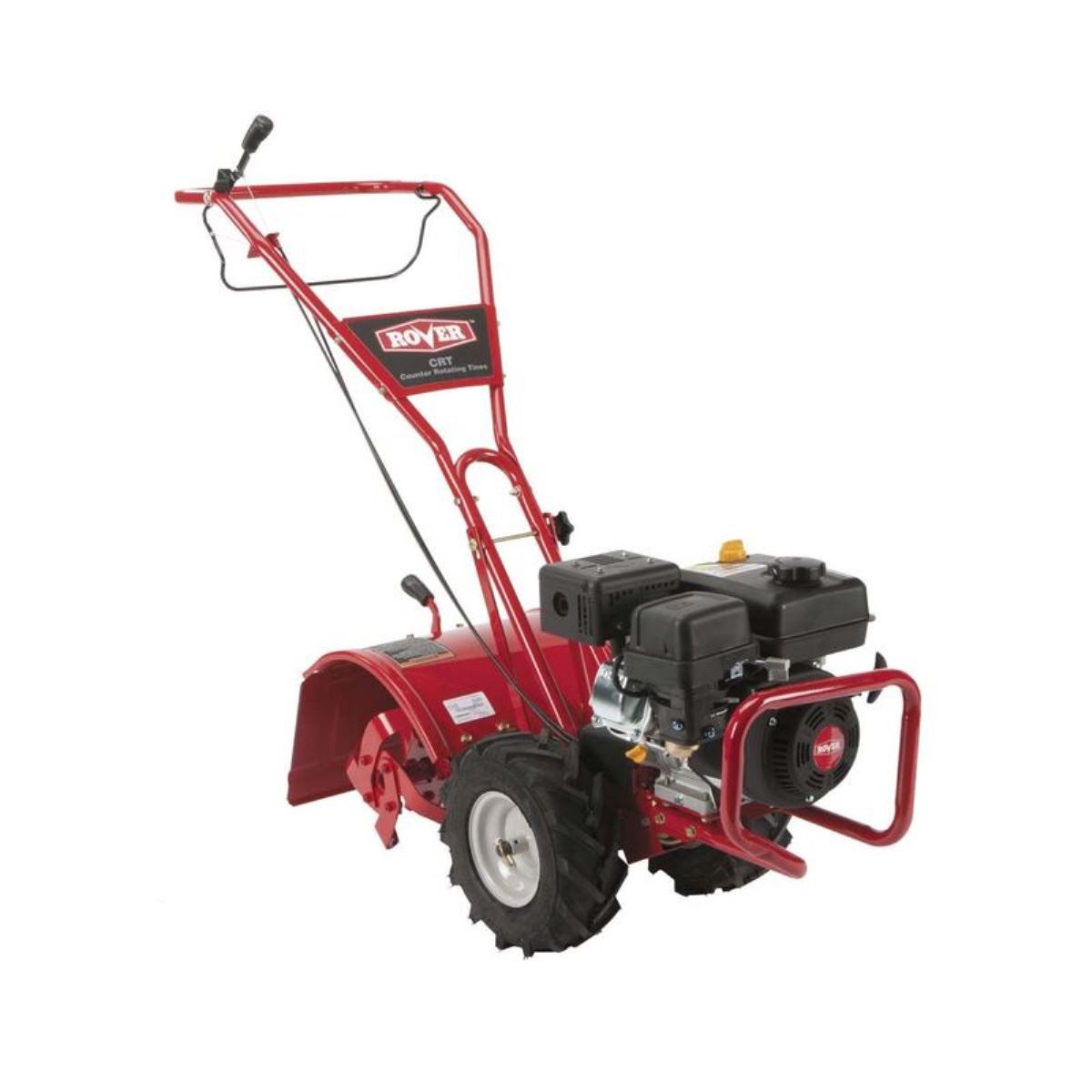 Front-Tine Tiller:
Front tine tillers have blades attached to the front axle while wheeled types have them attached to either the front or back. The type of tiller chosen depends on how it will be used, whether pushed by hand or pulled with a tractor, its size and weight, and the size of the garden being worked.
Front-mounted tillers are more suitable for larger areas as they can reach greater speeds. Some models run at speeds up to 1800 RPM. Front-tine tillers are lighter machines that can be pulled by a tractor or ATV, making them the most common choice for large farms and gardens. Some models can achieve speeds of up to 1500 RPM.
Tines must be replaced periodically as they become worn with use, but otherwise tilling is relatively easy on both types of the tiller. Front tine tillers are slightly less complicated to maintain than rear tine tillers because there is no need to adjust the belts and other components involved in powering the front-mounted unit. However, all tillers require regular oil changes and greasing to keep their parts working well and lasting long.
Additional Features:
Conclusion:
The best tiller on the market all depends on what you need it for. If your garden is a small one and you don't have many trees to clear, then a lightweight model will be just fine. But if you want to tackle large jobs with tough terrain, go for something more powerful that can handle anything.
You could also consider renting or borrowing from friends or neighbors until you find out which type of soil preparation tool suits your needs the best! There are so many factors to take into consideration when choosing a tiller – size, weight, power source (gasoline vs electric), clearance height, and width; we recommend weighing them against how much land do you own before making the final decision.
Edmund B. Pittman is a renowned author and gardening expert with a deep passion for all things related to gardening and tillers. He has spent many years cultivating his skills and knowledge, and his expertise is widely recognized in the gardening community.
Mr. Pittman's love for gardening started at a young age, and he has been dedicated to this hobby ever since. He has spent countless hours researching, experimenting, and perfecting his techniques, and his garden is a testament to his hard work and dedication.